Now that Fall has arrived, figured I would dust off the ol blog. I am curled up on the couch with my pups. #LaLasZero has always found a way to curl up on her own under any piece of fabric or blanket laying around the house. #LaLasDean on the other hand was nervous to trust the blanket coming towards him this evening was going to be cozy. So here we sit all under the same blanket trying to keep warm.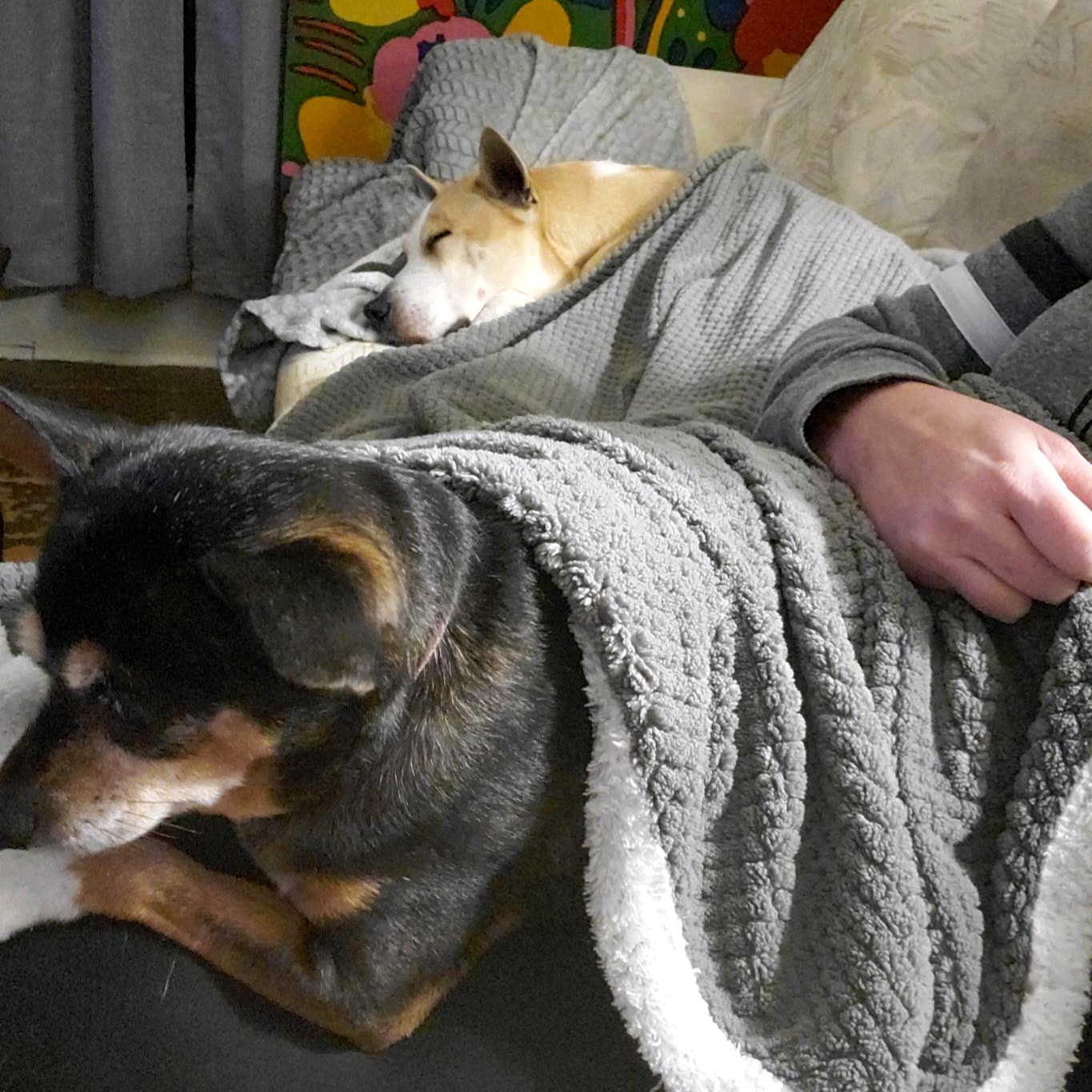 Made two batches of chili so far this season. It is the perfect meal to prep on a Sunday night and let the Instapot take care of it the next day, so Monday night dinner is complete. Overall, my garden did not do so great this year. A rogue mulberry tree in the neighbor's yard blocked most of the sun from the tomatoes and peppers. Happy my jalapeno plant was in just the right spot to yield an abundant harvest. They are great to add a little spice and color to your chili.
Spicy Chili Ingredients
1 (19 oz.) Package of Italian Sausage (I buy the Hot Links from Aldi and take them out of the casings.)
2.5 T Chili Powder
1 T Ground Cumin
1 T Garlic Powder
1 T Onion Powder
1 T Paprika
1 T Oregano
1.5 t Salt
1 T Ground Pepper
1/4 t Ground Cayenne Pepper
2 - (15 oz.) Cans of Diced Tomatoes with Basil, Oregano & Garlic
1 - (10 oz.) Can of Diced Tomatoes with Green Chilis
2 - (4 oz.) Cans of Green Chilis
1 - (15 oz.) Can of Corn drained and rinsed
2 - (15 oz.) Cans of Black Beans drained and rinsed
2 - (15 oz.) Cans of Kidney Beans drained and rinsed
2 Finely diced Jalapenos
Instructions
1. In a medium skillet, add the sausage and cook over medium heat. With a wooden spatula break up the sausage into small chunks. Cook for 7-8 minutes or until the sausage is browned, stirring occasionally.
2. Add all of your spices over the sausage (Chili Powder, Cumin, Garlic Powder, Onion Powder, Paprika, Oregano, Salt, Pepper and Cayenne Pepper). Stir to combine. Transfer the cooked sausage into an Instapot or Slow Cooker. (You could brown your sausage in your Instapot if you prefer.)
3. Add all of the diced tomatoes and green chilis to the pan. Cook over medium heat for 2-3 minutes then transfer to the Instapot.
4. Add drained and rinsed corn, black beans and kidney beans into the Instapot.
5. Finely chop 2 jalapenos and add them to the Instapot.
6. Turn your Instapot or Slow Cooker on and Slow Cook for 4-6 hours. (I set my Instapot to 4 hours and choose the keep warm setting.)
You can top your chili with sour cream and/or shredded cheese of your choice. Chow down with a spoon or scoop each bite with tortilla chips.
The cayenne pepper and jalapenos make this chili pretty spicy, feel free to omit to suit your taste. Ground beef can be substituted, or try a mix of half sausage and beef. Completely omit the meat all together for a vegetairian option.
Pair this chili with cornbread or corncake too.
Hope you give this recipe a try! Let me know what you think!