Spring always reminds me of how much I love to forage for foods to eat, and blooms to preserve to add to future sculptures. The life that springs up out of the ground or from the trees is full of an energy I wish I could preserve too.
Dandelions fill my yard each spring, and for the past three years I have been foraging dandelion heads and making cookies with them. There are lots of sites out there expressing positive benefits of eating dandelion leaves, petals and even the roots of this spring plant. Maybe it helps my blood pressure or is an antioxidant, but I just love the process of growing food and cooking with it. This happy weed maybe does not need my help to grow, but I welcome dandelions and enjoy sharing these cookies with friends and neighbors.
Dandelion Cookie Ingredients: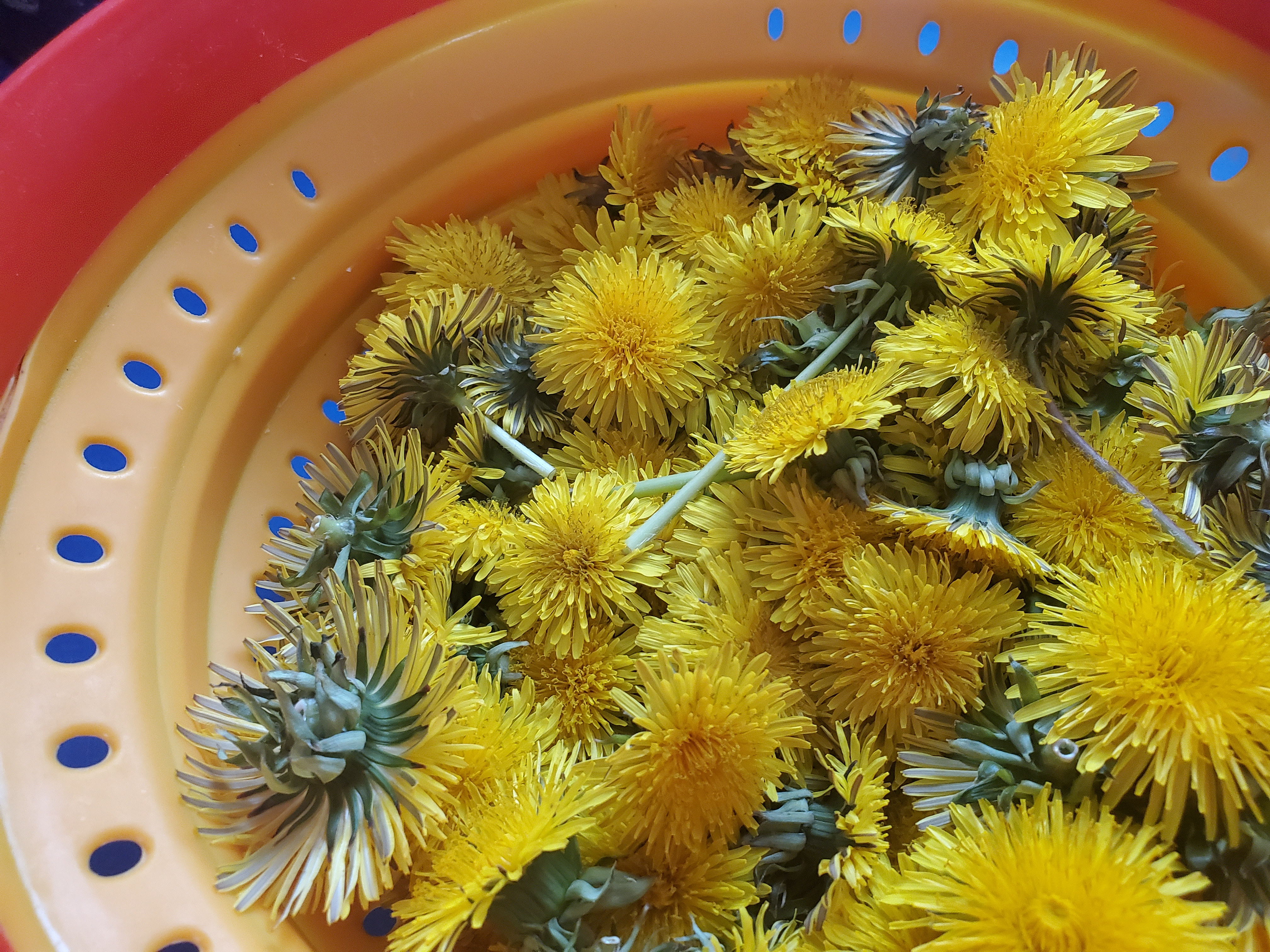 1/2 C. Butter
1/2 C. Sugar or Honey
2 Eggs
1 t. Vanilla
1 t. Baking Soda
1 t. Salt
1 C. Flour
1 C. Dry Oats
1/2 C. Dandelion Petals
Cookie Baking Instructions:
1. Preheat your oven to 375 degrees. Rub butter on a cookie sheet to lightly oil the surface.
2. Blend the Butter and Sugar together in a large bowl. Add in the eggs and vanilla and beat until well combined.
3. In a small bowl stir together the baking soda, salt, flour, oats and dandelion petals.
4. Add your dry ingredients to your wet ingredients and mix until well combined.
5. Scoop 1 teaspoon of the batter onto the lightly oiled cookie sheet. Be sure to leave 2 inches for spacing because these cookies will spread some.
6. Bake for 10 minutes or until the cookies have spread and are light golden brown on the bottoms. Transfer them to a plate or cooling rack & enjoy.
Dandelion Petal Removal Tip:
The best way I have found to gather just the yellow petals from the dandelion head is to gather all the petals up in one hand, tapering them into a gathered bundle. Take a knife and cut the green stem part off, about 1/8" up from where the stem meets the head. Once the bottom is cut off you can wiggle your fingers down towards the top of the petals and peal off the tiny green leave parts. If you do this enough (you will to get 1/2 C. of petals) you will start to get the feel of where the dandelion head can be cut to have the left over green leaves just come off like a pretty little crown. You can really obsess about getting all the green leaves out of the petals, but I try my best and if a few get in the pile that is okay.